Club Cottage – Exclusive Residential & Leisure Park Homes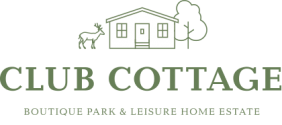 We are delighted to offer luxury bespoke leisure homes for sale on Club Cottage in Burnham Green near Welwyn Garden City. This exclusive park is set in acres of Hertfordshire countryside, yet only 19 minutes by train to London's Kings Cross train station
Our new homes are all bespoke, prices start from£199,950 and come fully furnished, carpeted and equipped with washing machines, dishwashers and microwaves. Each lodge has a spacious decking area to enjoy the array of wildlife that surrounds the park, from rabbits to deer that appear in the early hours of the morning, grazing in the park. A wonderful sight to see in this beautiful unspoilt setting, yet so close to London.
Only a 2 minute walk from this exclusive park is the village green, post office, convenience store, restaurant and pub.  The hamlet of Burnham Green has endless history dating back to 1766 and local clubs include bowls, cricket, rugby, football and an annual fete.  A regular bus service runs to Welwyn Garden City where you can take advantage of three golf courses and within easy reach are Stanstead, Luton, Heathrow & Gatwick airports.
Arrange A Viewing
Tom Hartley offer a wide range of luxury lodges for sale on our award winning parks. Lodge ownership is ideal for your retirement, semi-retirement or choose a lifestyle of having a leisure home, second home or even home from home.
Read testimonials from some of you happy owners. Read More
Dear Mr T Hartley,
We have property in Spain but needed a home here to stay when we visited family and friends without imposing on them.
We found our dream place at Swainswood Park and we were fortunate to purchase a leisure home from yourself. Our new leisure home is excellent with the site having views over the National Forest Park, is very quiet, private and secure with the maintenance kept to a very high standard.
Thank you Mr.T Hartley for our perfect home.
Mr and Mrs Vernum