Two homes For The Price Of One – Sunday Express Article May 03 2009
Park homes gives you the chance to have a less costly, more varied lifestyle. Business is booming with more buyers swopping bricks and mortar for a "mobile" retirement home than ever before.
Not only that but buyers are finding that a park home is so much cheaper that they have enough change to buy an overseas property as well, enabling them to lock up and leave their park home and spend the winter months in their sunshine home abroad.
Widower Fred Coulton, 60, sold his three-bedroom semi-detached property in Burton-On-Trent last year for £280,000 and bought a three-bedroom mobile home nearby in Ammington Park, Staffordshire. He paid £140,000 for it and with the money he saved he bought a two-bedroom apartment in the Turkish seaside resort of Bodrum for £70,000.
"It has worked out perfectly as i can now spend half the year in the warm abroad and half the year here" he says. Amington is a high-end park home resort comprising 60 properties on a gated estate, which means Fred can lock up and leave his home without worrying about his security. The added benefit of Amington is that it is close Birmingham and East Midlands airports.
"I didn't want to buy a flat and all the terrace properties i looked at were to expensive," adds Fred. " You would never know my home is a mobile home as it has a brick and concrete-style facade. It is very spacious inside, too." Because of the downturn, Fred, a retired local authority employee, negotiated a £40,000 discount on a new full furnished home. "It is like living on a private housing estate and i don't have to worry about leaving my property when i go away."
Tom Hartley, owner of Tom Hartley Park Homes, which includes Amington Park, says: "If you mentioned park homes 20 years ago you thought a caravan park in Skegness but now they are a lot more sophisticated and people are making a deliberate choice to buy one as opposed to having to vecause the cant afford anything else."
Tom's company owns six parks, five in the Midlands and one in Surrey, plus two holiday-lodge parks. Park home prices start from £80,000 for a two-bedroom property rising to £275,000 for a three-bed. Site fees range from £120 a month to £145, excluding community charges which are about £800 a year. "All our parks have electronic gates with CCTV security and our flagship Cudworth Park in Surrey offers a garage with each property." The only restriction to buying a park home are that buyers have to be over 50, use the home as their main UK residence and cannot sub-let.
Tom adds that owners of his holiday lodges are also using them ad full-time residences, which the let out when they visit their overseas property. Park homes tend to be a lot cheaper than a bricks-and-mortar home, which saves on stamp duty and can feature any design and interior layout the buyer wishes. "people think more about pursuing a quality of life when the reach 50-plus rather than worry about whether their home will make them a profit," says Mr Hartley.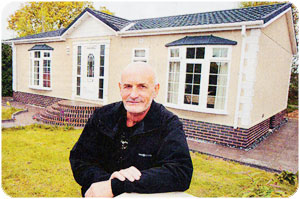 Fred Coulton outside his three bedroom 'mobile' home in Staffordshire