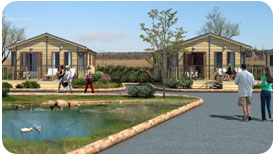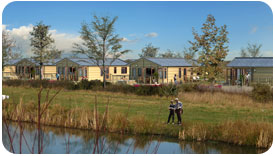 Awarded a prestigious 4 Star Gold & 5 Star rating for Accommodation by Visit England.  This gated, exclusive park is set in an idyllic waterside setting in the heart of The National Forest and is surrounded by breathtaking views of the Derbyshire and Leicestershire countryside. Tom Hartley with help from his wife Priscilla and two daughters Priscilla and Stephanie intend Ashby Woulds to be the country's most exclusive boutique residential park, the lodges will be bespoke and designed to the highest standards possible and available in two or three bedroomed spacious lodges with fitted appliances, quality branded names and private decking areas with custom built hot tubs.
The surrounding area of the park on one side has canal views overlooking exquisite Derbyshire landscape, on the other side it has views of the idyllic scenery Leicestershire countryside with delightful walks and trails we believe can not be surpassed. Less than half a mile away on the private Hartley estate is a 30 acre woodland that has air rifle shooting facilities for stalking shooting which is available for lodge owners and visitors (view air rifle code of practise). There is fishing within a minutes walk from the park for avid anglers and onsite boat hire to explore the local waterways. An extensive children's play area together with basketball courts and a bar / restaurant, or relax in your lodge by having a beauty or health treatment with our qualified therapist. There are over 85 leisure attractions within 45 minutes drive, including nearby Conkers, the belfry golf course, Drayton manor park, Alton towers, Twycross Zoo and the Peak District to name just a few attractions available to enjoy your leisure time.
Situated three miles from junction 11 of the M42 at Spring Cottage near Ashby Del-La-Zouch, close to all midlands cities and probably no more then 90 minutes from whatever part of the country you reside in.
"Ashby Woulds is somewhere that pampers you and allows you total relaxation in the most luxurious surroundings imaginable" – Anne Webb, highly respected and revered writer for the Park Home Industry.  Read full article >>